CAMP WORKSHOPS
MODELING
Have you ever wondered what it feels takes to be a real model? Models share their personal stories and give the girls insight to the modeling profession. The girls learn to walk with confidence and style.
VIEW CAMP 2012- WALK WITH ELEGANCE-MODELS IN TRAINING
DRESS LIKE A PRINCESS (BODY IMAGE & FASHION)
Girls learn how to fit personal garments and to identify body type and shape. Campers create their swag, by turning their old clothes new creations!
OUTER BEAUTY ( MAKE-UP AND SKIN CARE FOR TEENS)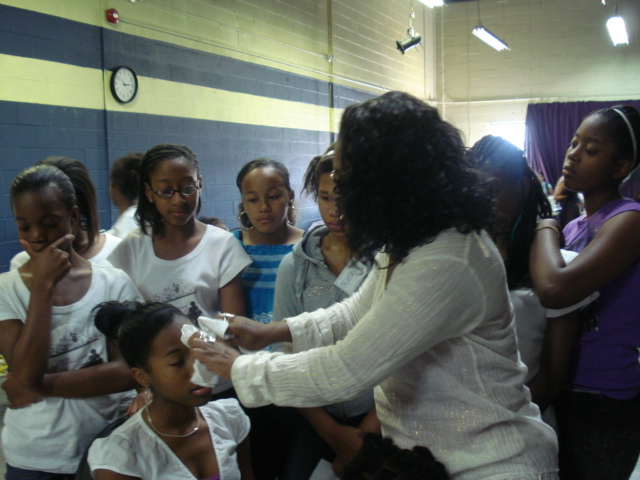 VIEW INNER AND OUTER BEAUTY WORKSHOP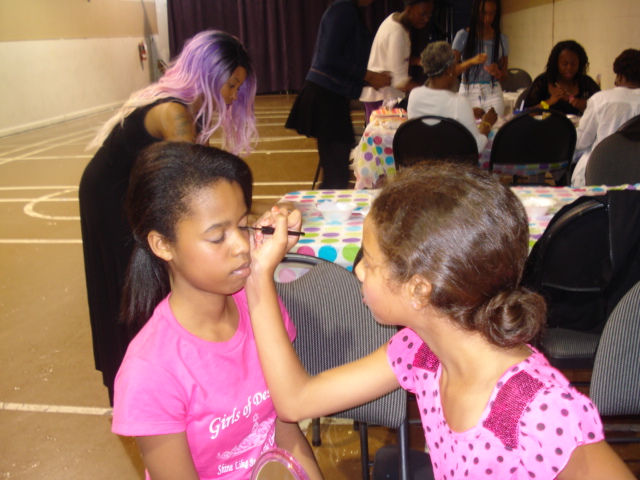 Girls learn age appropriate make-up tips from a professional make-up artist and practice on each other. Learn the latest trends in make-up and which colors work best for you. Girls design face chart of their special look.
GUESS WHO IS COMING TO DINNER (TABLE ETIQUETTE)
Whether at home, a party, a friend's house or at an elegant restaurant, proper dining etiquette is essential for all young women. Campers learn the proper table etiquette and enjoy "high tea" at the end of the workshop
LOVELY HAIR and NAIL CARE
Which hot tools do I use, flat iron or curling iron? Is my conditioner or shampoo right for my hair type?  Learn the secret to hair styling. Find out which hairstyle most flatters the shape of your face and learn how to keep your hair healthy
Campers learn how to manicure their nails and apply nail polish..
THE LEADERSHIP IN YOU WORKSHOP
Making the correct or incorrect decision can affect ones future. Girls will create a vision and articulate their values while respecting that others may have different values.The egirls learn many leadership strategies.
NUTRITION /FITNESS
A healthy, balanced diet coupled with physical activities is essential for all teens. Campers learn that eating healthy can be enjoyable and exercising can be fun. A personal trainer or nutritionist facilitates morning fitness and nutrition workshops.
PARENTS: Please note that our emphasis is strictly on a healthy diet and healthy living and not weight loss.
INTRODUCTION TO MEDIA CAREER
Campers learn about print , radio and television media.
DANCE WORKSHOPS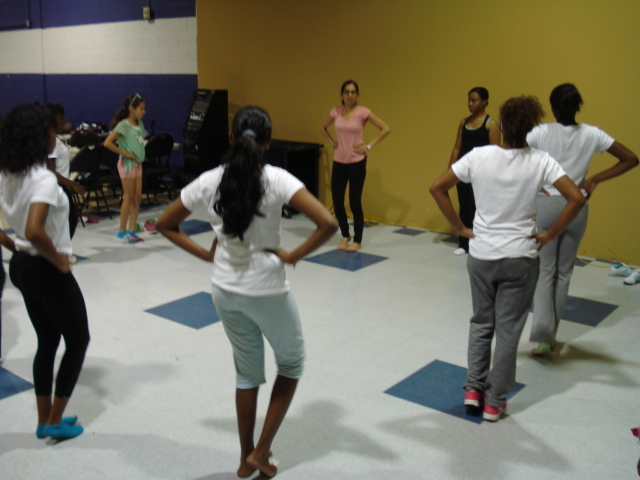 One of the girls favourite workshop where they receive basic instruction in Bollywood , Latin, Worship dance, Hip Hop, Stepping, Flagging and Tambourine. The girls are having fun while working out and burning calories.
FIELD TRIPS
We try to take the girls on field trips whenever possible.
The Cooking Workshop (trip to Loblaws cooking school)
Talented instructors teach the girls how to prepare a three course meal of some of your favourite foods.
CRAFTS
Fun and enjoyable craft classes and workshops.
THE ART OF CONVERSATION
Communication skills are the focus of this class. The girls do skits that cover voice projection, diction and body language. The ability to converse correctly will help girls feel confident in any social situation. The girls get an opportunity to display their communication skills at the graduation banquet.
CAMP CELEBRATION BANQUET