Education and Life Skills
 LEARNING FROM MISTAKES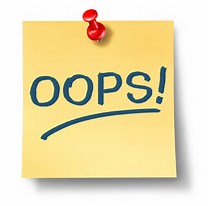 Everyone makes mistakes. We all know that. But what is a mistake?
Definition of mistake: an error in action, calculation, opinion, or judgment caused by poor reasoning, carelessness, insufficient knowledge, etc.
A mistake is a choice that gets us off course from our dreams when a choice existed that could have kept us on course to our dreams.
 So true, mistakes usually cause some degree of pain, loss, or struggle. When you make a mistake reflect and ask yourself the following questions. The questions below can be applied to any mistake or shortcomings.
1 : What choice did I make that got me off course? (Own your mistake) 2
2 : What was more important to me at that time than taking a step toward my goals and dreams? (What did I do instead?)
3 : What other choices could I have made? (Make a long list.)
4: Is my original choice part of a pattern in my life? (Address the root cause)
5: What did I learn? (What can you do differently?)
6: Genuinely apologize to anyone that has been affected. (Be humble)
 7: Share what you have learned from your mistake. (You are your sisters' keeper)
When a mistake is made, searching ourselves and deciding never to go there again can help move us towards our goals and dreams. Think of a pro athlete, who watches the video of his /her mistakes over and over again in order not to repeat the same mistake.
Girls of Destiny strive towards your dreams and goals with determination. Remember it's not how you begin, but how you end the race